VEDRAN DORUŠIĆ
Course Director, Instructor Trainer
Old school, young soul. Owner, leader, and also a good friend. Vedran loves everything related to the sea, both above and below the surface. He has created or co-created many projects, and he is a big underwater archaeology enthusiast. Whatever task you place before him, you can be sure that he will complete it in an innovative and creative way. The more demanding, the more interesting!
DIJANA MIKAC DORUŠIĆ
Instructor
Manager of the Straško diving center. Considerate, attentive, alert and organized. Whether in the office, storeroom or workshop, call Dijana when you need to organize, store or find something.
DORIJAN VAŠAREVIĆ
Master Scuba Diver
One of the center's promising employees and a future sailor. Dorian's main strengths are willpower and a desire to learn.
BRUNO AČKAR
Instructor
Lover of all flora and fauna, especially small animals. This is exactly why he created the "Recycled Reef" and "Seahorse Story" projects. A joker with a serious approach to education. It doesn't matter if you descend 5 or 15 meters, diving with Bruno is both fun and educational.
MARKO KRESLIN
Course Director, Instructor Trainer
Sailor and diver. When he's not at sea, he's scuba diving. Ship and knot expert. Besides diving, his main hobby is devising projects aimed at improving the diving center. An excellent teacher with an individual approach.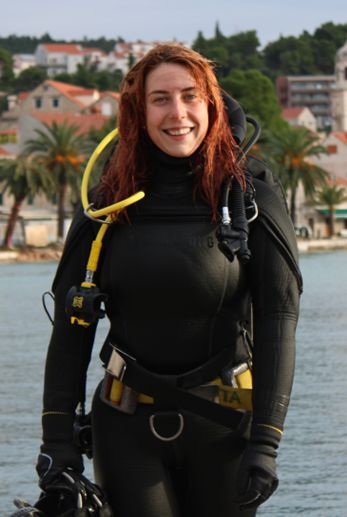 RENATA ZORKIĆ
Instructor
'Safety and trust'. The motto of the Croatian police can also be used to describe Renata. On land, she is the center's heart and soul, while under the sea, the best diving buddy. In whatever capacity she dives with you (discovery, course, buddy...), you're in good hands.
IVANA MATKOVIĆ
Instructor
A small, flaxen-haired, bubbly, fearless girl. At least, that's how her colleagues describe her. Because she was previously a student, Ivana has a lot of experience in working with children, and is even licensed to work with special needs children. So it comes as no surprise that the youngest divers prefer her as their instructor.
NIKOLINA ĆUK
Divemaster
Although an art teacher, she decided to replace the classroom with a rocky, sandy seabed and diving gear. The character, imaginative approach and artistic perspective still inhabit the diving suit, so she still loves to learn, teach and create. Together with Vedran, she promotes the "Straton" project, and acting under Bruno's tutelage, she created the "Recycled Reef" project.